Getting Started
What are the artwork requirements?
Artwork is a very important part of getting your shirt done just the way you want it. Great artwork = a great shirt. There are many types of files we can work with, but the files that will provide the best quality for printing are vector files.
Vector Files: Adobe Illustrator (.ai, .eps), Adobe Acrobat (.pdf)
Also acceptable are high-resolution bitmap images. With these types of files, we recommend at least 300dpi.
Bitmap Files: Adobe Photoshop (.psd), JPEG Images (.jpeg), TIFF Images (.tif)
If you're file doesn't meet these requirements we can help. For an small charge, our designer can work with your image to prepare it for printing.
What are your order minimums?
When ordering screen printed apparel, it's important to keep in mind that the cost of printing goes down as the quantity of shirts goes up. That means that big orders are a lot more cost effective for you. Our minimum order for screen printed apparel is 25 pieces (of each design).
What are your setup fees?
All set up fees are included in your pricing. There are no fees in addition to the quote.
Can I mix and match shirt styles?
Absolutely! As long as you are printing the same design on all of the apparel, you can mix and match the style of shirt. For example, if you are printing a 1 colour design on 25 pieces of apparel you can print on 9 tshirts, 8 tanks and 8 hoodies.
What is your turnaround time?
Our turnaround time for screen printed orders is 2–3 weeks + shipping time. This is an estimate, and starts when the order is finalized – all designs must be approved and apparel and sizing chosen. If you have a specific deadline, please advise us as soon as possible. If it is needed with a short turnaround time, rush order fees may apply.
How do I keep my price down?
Prices per shirt go down as quantities go up, so increase your order to save money.
The apparel you choose to print your image on will have an affect on your overall price. Apparel available ranges from economical to premium, so be sure to choose something within your budget.
Try to keep the number of print locations low. Instead of printing something on the front AND back of the shirt, just choose one location.
The number of colours being printed on your shirt greatly affects the price. If you're printing a 6 colour image, but can get the same results with just 3 or 4, that will help decrease your final price.
Sizing Chart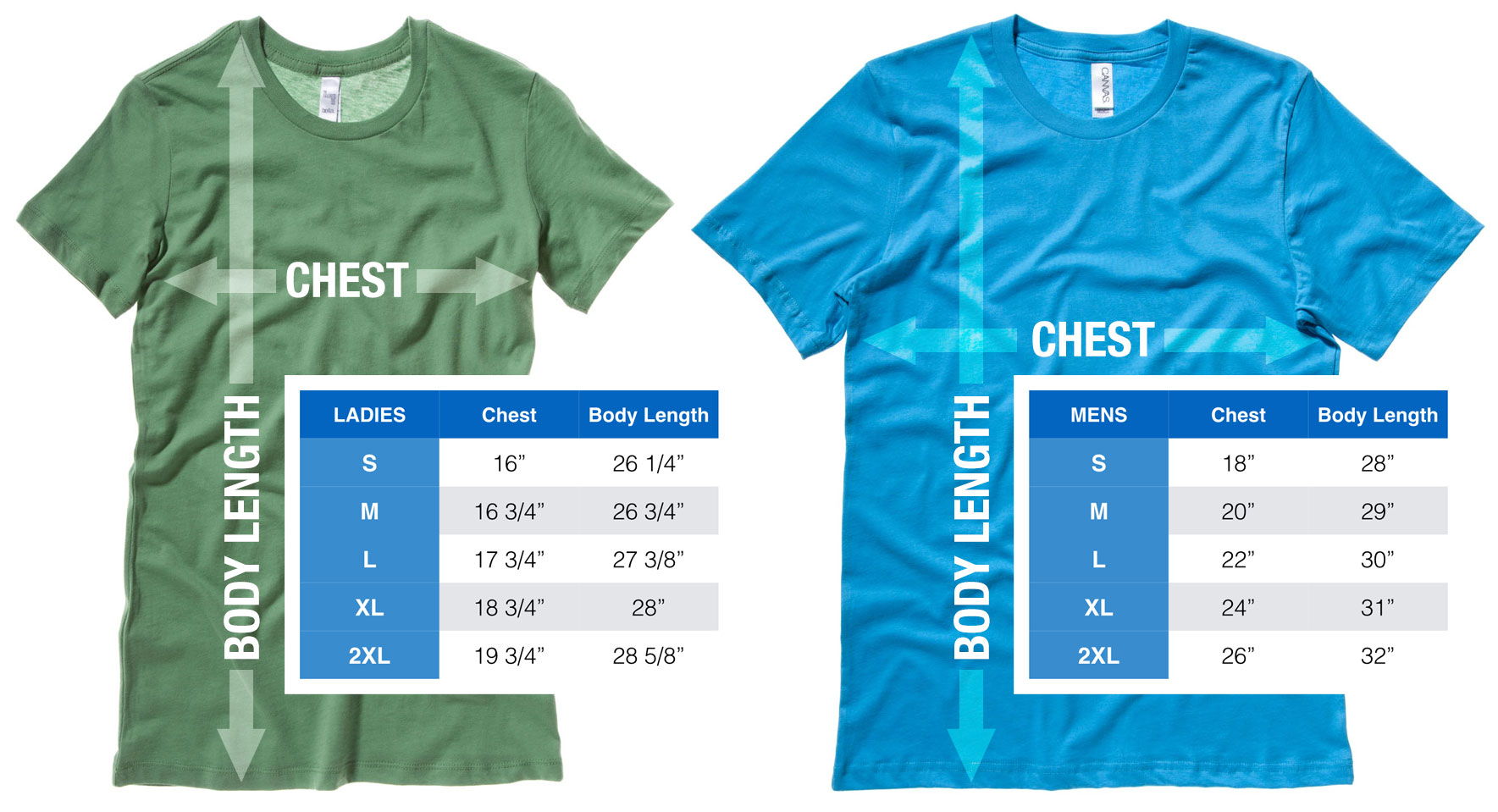 Terms
Turnaround
The turnaround time on your order with Printworks starts when you've paid a 50% deposit and we have all information required to complete your order (all artwork, fonts, shipping info, etc.). Delay in receipt of *any* of this info could result in production delays. Our current turnaround time is 2–3 weeks + shipping. Complex orders or extras may increase turnaround. Delay in approval of mock ups could also result in production delays. The most up-to-date turnaround time will be listed on your quote.
If you have a deadline for your order, it is very important that you let us know when placing your order and a rush fee may apply if there is not enough time to complete your order under normal circumstances. If you do not advise us about a due date until after your order has been paid for and pushed through our system, we may not be able to accommodate your request. Any circumstances out of Printworks's control (ie: weather delays, shipping errors by the supplier, etc.) may also require more time and are not factored into the initial turnaround time estimate.
Minimums
Screen printed items: 25 pieces (of the same design)
Embroidered items: 25 pieces (of the same design)
Artwork
All files must be 300 DPI or vector format. The design should be sized to the size you would like it to print. Text must be converted to outlines. Printing can only be as good as the artwork. Printworks will not be responsible for poor quality printing due to poor artwork. Printworks is not responsible for any misspellings, errors, or issues in your art file. We do our best to catch these errors and point them out to you, but we may not catch them all. If it is in your art file and on your approval, that is how we will print it.
Art approval / Order proofing
All artwork is to be approved via a digital mock-up through email. Artwork must be checked for spelling, color, sizes ordered, placement of the art and accuracy of artwork by the customer. It is very important to look over every detail of the mockup, as this is how your garments will print. Any modifications requested after customer approval will result in production delays and could require additional expenses. Any delays in the approval process longer than 24 hours after receipt of the mockup could result in production delays.
Out of stock items
Printworks is not responsible for items that are out of stock. While we check items we know to have potential stock issues, all garments are ordered after your order is placed, and we cannot guarantee their availability. If items are out of stock, we will provide you with a list of possible replacements and get it approved by you before using your chosen item.
Specific measurements when printing
There is no way to effectively and efficiently measure a distance from the collar on each shirt as each garment is loaded onto the press by hand. If you request a print that is 2" down from the collar, we will use that as a guide and do our best to make sure that all shirts hit that target, but not all shirts will hit exactly at 2", they may be off by as much as an inch in either direction. This will not be considered a misprint and Printworks will not reprint or refund these shirts.
Payment
50% deposit of your order total must be paid before the order begins (unless otherwise approved by Printworks). The remaining 50% is due when your order is picked up. Unpaid orders will not be released.
Changes to your order after payment
Any change made to your order that is not due to a stock issue will be subject to a change fee of $50.00 in addition to the additional costs to make the changes. Any changes to your order after it has been placed will delay your order, even if you have paid a rush fee and/or have given us a required date. It is very important that you do not place your order until you are certain that's what you want. Once the process begins, everyone in our shop starts to work on different aspects of the job, changes become costly and time consuming.
Example: BrandX places an order for 100 Anvil 980 shirts in Black. Printworks then orders the shirts to prepare for printing. Two days later, BrandX wants to change the order to now print on 100 Anvil 980 White tees. Printworks has to re-write the order and ship the black shirts back to the supplier (paying a 15% restocking fee + shipping costs) then pay to have them ship new shirts out.
Cancellations & restocking fees
Cancellations made after order has been placed will be subject to a 15% restocking fee plus any additional fees required to cover services already rendered. No cancellations will be accepted once production or any manipulation of the garments (tag removal, printed tags, printing, hem tagging, etc.) has begun on the order.
Example: BrandX places an order for 99 shirts. Printworks then orders the shirts to prepare for printing. Two days later, BrandX needs to cancel the order (for any reason). Printworks has to return the shirts to the manufacturer, incurring shipping fees and restocking fees. Printworks refunds BrandX for their order minus necessary cancellation fees.
Must-have dates
Printworks will do everything we can to meet any must-have date, but we cannot guarantee it. Rush fees may apply. Customer may be responsible for any expedited shipping charges associated with the order.
Shipping
Printworks cannot be responsible for any shipping delays caused by the shipping company.
Examples: Canada Post cannot deliver your package on time due to inclement weather. | Canada Post delivers your package to the wrong address (although provided the correct address) and you do not receive your products on time.
Under-runs & spoilage
Due to the nature of this business, Printworks will not be responsible for under-runs or spoilage up to 10% per design. Please keep this in mind when ordering (it is never a bad idea to order extras). We always do our best to get you what you ordered. We will refund you the cost of any items shorted from your order but will not process a reprint.
Garment disclaimer
Printworks is not responsible for manufacturer defects such as color inconsistencies, stitching errors, mislabeled garments, loose/inconsistent stitching, and/or garment defects (holes in garments, ripped seams, etc.). We try our hardest to inspect the garments as we print them, but we cannot guarantee each garment. We are not the manufacturers of these garments, so we cannot ensure their construction. We highly recommend ordering 5% extra of each size if an exact count is important.
Satisfaction clause
Printworks will not be responsible for your satisfaction with the garments printed on or the printed artwork. We are always available to counsel any customer to ensure you pick a garment that matches your needs but we also need you to do your due diligence on the garment choice. If you are unsure of what garment to select, we can gladly order a number of blank samples for you to choose from. The samples will be billed at a per piece rate and shipped without printing. Blank samples will not credit to the cost of your order.
Quality assurance
We try to check every garment as it comes off of the press, but there are times where some mistakes will make it out the door. It is your responsibility as the customer to check over garments as you receive them. We allow an industry standard 72 hour window from the time you receive the goods to notify us of any issues with the order. Printworks will not be responsible for errors with your order if notified after 72 hours of receiving the goods. Printworks also will not be responsible for any lost income, customers, accounts, and/or contracts if defective garments are sent out to your final customer. While Printworks does quality checks on the garments, the final quality assurance check lies in the hands of you, our customer.
Claims & reprints
We go to great lengths to try to ensure that every order that leaves our facility is correct. All of our customers are valued customers, regardless of size, and we want you all to know that. Please email [email protected] with any issues within 72 hours of picking up your order. If Printworks is responsible for any errors in your order, we will gladly work with you to find a reasonable solution.