Sawyer and Tye Hannay are a couple of hard working cousins and New Brunswick locals, we dig that. We've been handling their shirt printing for a while now and couldn't be happier to have done this interview with Sawyer to give all of you a little more insight on what these guys do.
1) Go ahead and introduce yourself, tell us a bit about what you do outside of Country Liberty.
Tye Hannay and I started Country Liberty together in hopes of unionizing the country citizens and our way of life. The lessons we have learned through growing up in our country community have brought us to where we are today. Tye, being a very hard working blue collared carpenter full time, and myself a student/athlete. I have played 4 years of major junior hockey, I was drafted to the NHL in 2010 by the Vancouver Canucks, I have played half a season of European pro hockey, half a season of American pro hockey, and now a full season of AUS University hockey. I am currently a full time student at St. Thomas University and plan on graduating here in Fredericton, improving as a hockey player and continuing to grow Country Liberty!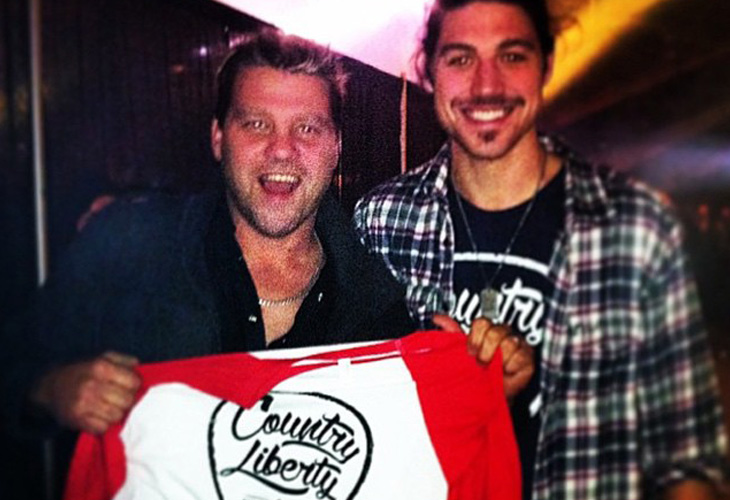 2) What influenced the look and image of Country Liberty (your logo, shirt designs, etc.)?
When I was 19 and living in Salzburg Austria I naturally thought a lot about home. I planned on staying in Europe to complete my goals but often thought about home and how proud I was to say I was from there and that was the way I grew up to all the new people I was meeting along my journey. The idea came to me then, but it took over a year before I approached Tye with the idea and our brand took flight. Our inspiration is the easy part, it is all around us, we grew up in it and live it every day. Tye working and living full time in Rexton, Kent County where we grew up – opposite to myself as I have traveled more, living in multiple cities but always eager to get home once I have the chance. I learned through my travels to adapt other cultures and norms, which made me appreciate my roots even more. Our community, who we love, and what we love is and will always be our inspiration.
3) I understand you went through a name change recently, what happened there?
We have made the small adjustment from Country Free to Country Liberty. "Free" and "Liberty" share the same basic meaning, but we agreed "Liberty" has more of a specific touch to it. Specific in the sense that Liberty in a single word best describes the livelihood we are representing. I have always known what the word "Liberty" has meant, but when we came across this specific definition online we fell in love with the word. It is EXACTLY what we are trying to portray and represents the country way of life perfectly – "the state of being free within society from oppressive restrictions imposed by authority on one's way of life, behavior". A definition couldn't possibly be a better fit for the message we are delivering. We were proud to announce Country Free's evolution into Country Liberty as we felt it was a much stronger, better suited title for us moving forward.
"Liberty: the state of being free within society from oppressive restrictions imposed by authority on one's way of life, behavior".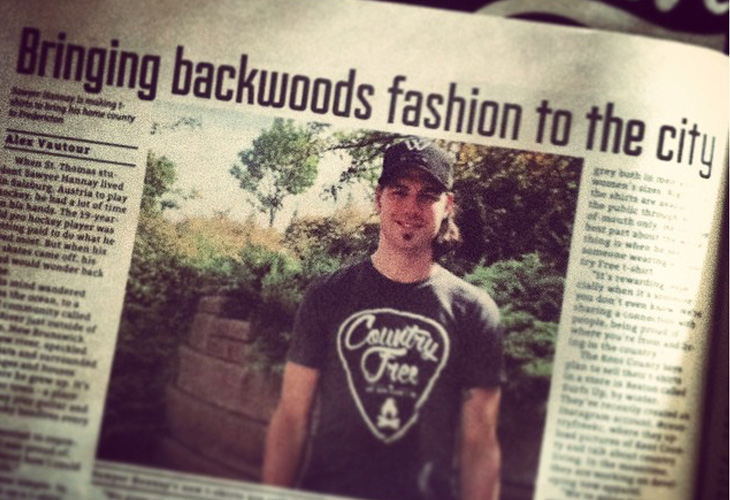 4) As far as I know you don't have a webstore right now, is this something you feel you can do without? How do you currently promote and sell your goods?
For the longest time our products were not made available to everybody. They were only available to the people that contacted Tye or myself directly. We also did not promote our product any further than word of mouth. It has been so important to us not to push our product on anybody. Too many brands force their product on their customers, we did not want to be one of them, as it is not the country way. Recently we have joined the three main social media sites providing better information for our customers. You can find us on Instagram, on Facebook and Twitter. We have band members wearing our products to their shows all over Eastern Canada as we continue to move west. We also have a few Country stars in possession of our product such as Doc Walker, BlackJack Billy, The Road Hammers, etc. We now sell out of a store in Rexton, Kent County called Surfs Up on Main st. We also sell here upon inquiry at [email protected]. A webstore is in Country Liberty's future and any type of announcements can be found on our social media accounts.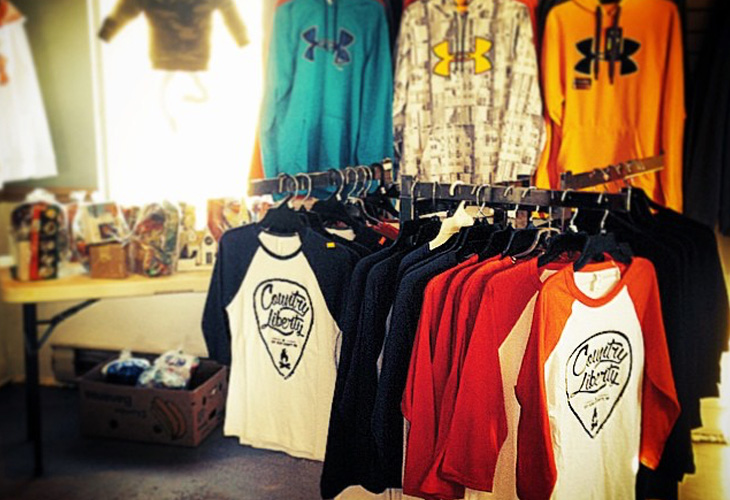 5) What's next for you and Country Liberty? Any plans you can discuss with us?
We do not want to release too much information on our plans for Country Liberty in the future, but we can say now that we have a few exciting announcements coming soon! We would also like to take the time to publicly thank all of our supporters thus far, and remind you all that YOU are the ones making the possibility of proudly representing our way of life a reality. Show your roots, and keep it Country!